There are a number of factors to consider when handling a brand new rooflight. From the moment that it arrives, it is vital to treat it with the care that it deserves, and this involves applying some simple but essential rules.
By following these steps prior to installation, you should be left with a skylight that is in pristine condition; but failing to apply a little common sense could result in a very costly mistake – this is especially true when the rooflight itself comes almost fully assembled.
Step 1: Lifting Your Rooflight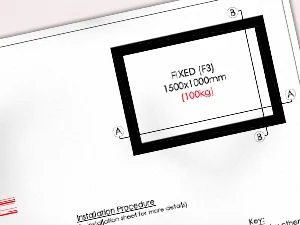 We here at EOS Rooflights take a number of steps to pack each rooflight in a way that minimises the risk of damage during transit. Your rooflight will have to be unloaded off of a curtain sided lorry. This will be almost impossible without lifting equipment or the correct amount of labor. To work out the amount of people to safely offload your rooflight see the top right of the relevant drawings for weights (this includes packaging) divide this number by 30 to give you the required number. It is very impotent to have the means of offloading as this can incur additional delivery charges. You can find our stock rooflight drawings under downloads.
Two people may be sufficient to lift the product, but at the same time it may be a good idea to have one or two other people that can remove packaging safely. If two or three people can complete the job comfortably, an extra person can help to 'organise' the situation and observe everything to protect the unit and the surrounding areas from damage.
Please Remember. It is one thing to try to avoid damaging the unit, but it is even more important to protect those who are involved with the job.
Health and safety procedures and training should always take effect in the workplace, but it can sometimes be a different story when carrying out heavy lifting in a building site environment.
The difference between success and injury will be ensuring a sufficient number of people for the unpacking and lifting and carrying items safely. Any units with glass elements will always be heavy, which is why extra care should be taken at all levels.
Would you like to find out more?
If you would like further information about EOS, our products and how we can help, why not request a brochure.?
Step 2: The Unpacking Process
You may want to consider where you unpackage your rooflight as one of the hardest processes is getting the skylight on to the roof. Unpacking at floor level allows you to remove the heavy create and protection and upstands can also be detached from the lid to allow for more manageable lifting. Although without the protection your rooflight will be more prone to scratches and damage.



This unpacking process also leads to another important point. No matter what your attitude may be towards manufacturer's instructions, you should be sure to remove these documents and put them to one side for easy access. It may sound like we are stating the obvious here, but losing the instructions will be a major inconvenience!
Paperwork is easily damaged in the excitement of removing this sort of heavy object from its packaging, and there will also be other important information about the warranty, safety considerations and other documentation included.
The issue of items slipping out unnoticed also applies to any fixings that may be supplied with the skylight. Although the utmost care is taken to secure flashing and fixings during the packaging process, there is always the potential for items to become dislodged when everything is in transit. Carelessly discarding excess packaging with secluded fixtures and fittings could prove to be even more of a headache than missing documents!
Step 3: Storing The Rooflight
If there is going to be an extended period of time between removing the roof light and the installation, you will also need to consider the best location for keeping the item. Flat and dry conditions will always ensure that your goods are kept in the best possible state. We strongly discourage rooflights being removed from the pallet and laid directly onto the floor, in strong sunlight this can cause a build up of heat resulting in the glass cracking.
If you are in any doubt about the suitability of your storage area, it may be best to leave the skylight in the packaging until it is required. When these products are packed in our warehouse, they are encased in materials that are designed to keep everything in the best possible condition.
As a team of experienced specialists, we are always available to discuss any concerns that you may have about receiving, unpacking and installing your roof light. All of these units are supplied in a form that is suitable for DIY-enthusiasts with the necessary carpentry skills, however, in order to be sure that your new rooflight is fitted both securely and efficiently, we advise that you contact a suitable contractor.
Please do not hesitate to get in touch with a member of our team if you have any questions.
Start Receiving Free Tips and Tricks
Sign up to our Monthly Newsletter and receive exclusive content, offers and advice plus be the first to gain access to our upcoming 'Light Studio'
[gravityform id=13 title=false description=false ajax=true]