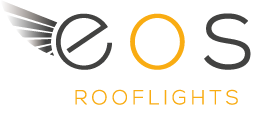 High Performance Through Contemporary Design
Market Leading Rooflights for
Flat Roofs
Our roof lights are designed to the highest specifications.
The glass within our rooflights is 30% thicker than any other UK supplier, including an 8.8mm laminated inner pane as standard, providing you with a safer, more secure product that boasts incredible energy efficiency.
Need A Quick Turnaround?
We offer an extensive range of stock products with nationwide delivery in just 2 – 5 days. Visit our online shop for latest offers.
Quality rooflights with customer service to match
But dont take our word for it... We asked you to rate us and our products.
Secure

& Energy Efficient

When it comes to your home, security is of vital importance and that is why this is a considerable factor in everything we do. The combination of laminate and toughened glass within our roof lights ensures extra protection without sacrificing design quality.

Likewise the thermal efficiency of our rooflights is a driving factor in our product development. Our ECO range boasts a system 'U value' as low as 0.65 W/m2K, which means you won't have any unnecessary heat loss from our products

For more information on selecting the right glass for your rooflight, please read our latest blog on glass specifications.
More
Light,

less Expense

Light is one of nature's most abundant free resources, and it is an integral part of interior design. We understand just how important light is to the feel of your home, which is why our flat rooflights are designed with no visible frame internally to ensure a seamless link to the outdoors.

Unlike many of our competitors, the sizes we quote are the internal area of visible glass (i.e hole in the roof) rather than the external rooflight measurement. This means with a competitor's 1000mm x 1000mm roof light you'd actually only see 900mm x 900mm of glass, whereas here at EOS, if we quote 1000mm x 1000mm, then that's exactly the amount of glass you'll see.
Explore our Stock and Bespoke range of Flat Rooflights
EOS is dedicated to supplying our customers with the highest quality rooflights for flat roofs. We offer an extensive range of stock rooflights with delivery available in 2 – 3 days or we can manufacture your rooflight to your exact requirements.
Our Fixed, Opening, Eco and WalkOn options all feature market-leading glazed units that put safety and thermal efficiency at the forefront, providing optimal performance at affordable prices.
Friendly, helpful and informative customer service. Good product and quick delivery.
Beautifully designed, high spec, and look fantastic. Simple website and helpful service from guys at EOS. Prompt delivery. This is a quality product.
Morning big thanks to Chris and his team, very helpful their product is by far the best complete roof light system out there. I highly recommend this company will be using them again, ps also very easy to install Kind regards Lee
They were extremely efficient and most of all knowledgable about their products - they offered detailed information and were extremely patient with all my questions. They managed to ship the product very quickly and it arrived to us the same week. Very happy with EOS. The product itself is great!
Very efficient and easy to deal with.
The roof light that I ordered arrived on time and appears to be very well made. The instructions were clear and my builder had no problems installing it, other than in getting it onto the roof as it is very heavy. The roof light looks good and I am glad that I was able to buy one with such a good U value as I wanted the light without the loss of heat.
Great service, nothing is a hassle and super helpful
Prompt delivery, excellent quality and easy to install, a great product.
EoS and their staff were very helpful in design and specification for a large skylight. They gave top quality support in the runnup to installation and were very accommodating in helping to source correct vehicle to crane in said (very heavy) skylight.
I'm delighted with my EOS roof lights. I had to choose roof lights that were slightly smaller than I wanted, due to design constraints, but the amount of light provided is wonderful and unexpected. The whole kitchen is lit up, even when the curtains are closed across our french doors. Many thanks EOS, A happy customers.
Very happy with the service from EOS staff and quality of the product. Would definitely use again.
Great after sales support and service from knowledgeable staff. Also a really good quality product.
Excellent service! The windows are gorgeous and their staff are always so available and happy to answer questions on short notice, and I had a lot!
Really helpful on specifying size and advice on installing.
Really nice company - fast, efficient and pleasant in all my dealings with them. There was a delivery error and they worked hard to find a solution as quickly as possible and did everything they said they would. Really impressed all round - when you are having an extension on your house, you end up dealing with lots of suppliers. I wish they were all as good as EOS.
Eos gave us a really good service, good communication throughout, most importantly the roof lights are amazing - really good quality and look great
Ease of installation and provided a huge amount of light to our extension. We chose the electric opening option which is fantastic for ventilation.
Very good service but most importantly excellent quality roof lights, very pleased thank you
They delivered what I wanted!
Good service and communication, competitive prices. Very helpful and understanding.
Great product, helpful customer service staff who answered any question I had.