Opening


 rooflights
Ventilate your space in seconds with our opening rooflights. Thermally efficient, sleek and secure – the perfect addition to any home.
Open your rooflight

with just one click
Transform any space by choosing from our range of opening rooflights flat roofs or low pitch up to 15 degrees.
Whether you need an opening rooflight to pair with an existing fixed one or want to add a brand-new feature to your home, our quality rooflights ranges promise optimal thermal efficiency and a modern external appearance.
A popular choice for kitchens and open-plan spaces, our opening rooflight options provide instant ventilation at the touch of a button.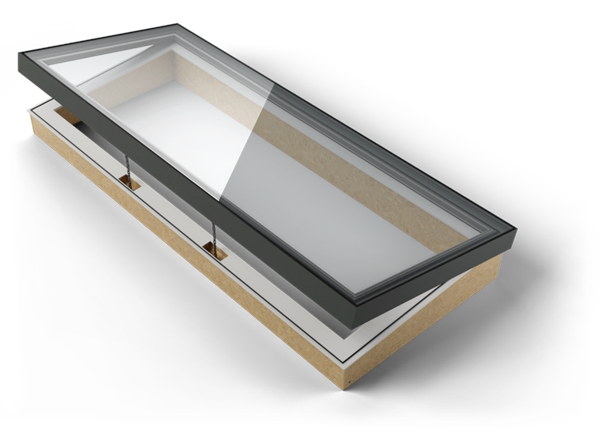 Our opening rooflights are thermally efficient and secure
Are opening rooflights secure? Ours are!
We take your family's safety – and energy bills – as seriously as you do.
What sets our opening rooflights apart is the thermal performance and safety of the glass, which we heat-soak test to identify weaknesses.
The layered glass is up to five times stronger than standard glass, and we laminate the inner pane – meaning your rooflight won't shatter if it breaks.
These security features mean that our opening rooflight system delivers incredible thermal efficiency.
Our opening rooflight ranges
High-quality rooflights in standard sizes

 with our Flex range
Do you need a high-quality flat glass rooflight fast? 
Manufactured with high-quality glass and a durable powder-coated frame, our electrically opening Flex range of rooflights ensures ultimate air and water tightness. 
The Flex includes a concealed chain and switch. Additional remote-controlled or rain sensor options are available.
Our frames sit flush with our easy-clean glass. Tinted glass and solar control options help maintain a consistent temperature, block solar radiation and keep heat in.
Our Flex rooflights are delivered as complete units for easy installation and must be installed with a minimum five-degree fall on flat roofs.
Speed up installation with a custom-made, thermally efficient insulated upstand. Available for warm or cold roofs. 
Flex product overview:
Double-glazed, toughened and laminated for exceptional safety and security
Provides enhanced energy efficiency
Tinted and solar control glazing options
Ten-year warranty
Two-year electric motor warranty
Intruder-proof
Low U Values, with options delivering under 1.4 W/m2k
Designed for roofs between 0-15 degrees
Powder-coated aluminium frame in Anthracite Grey RAL 7016 (Matt)
Optional upstand suitable for flat or sloped installations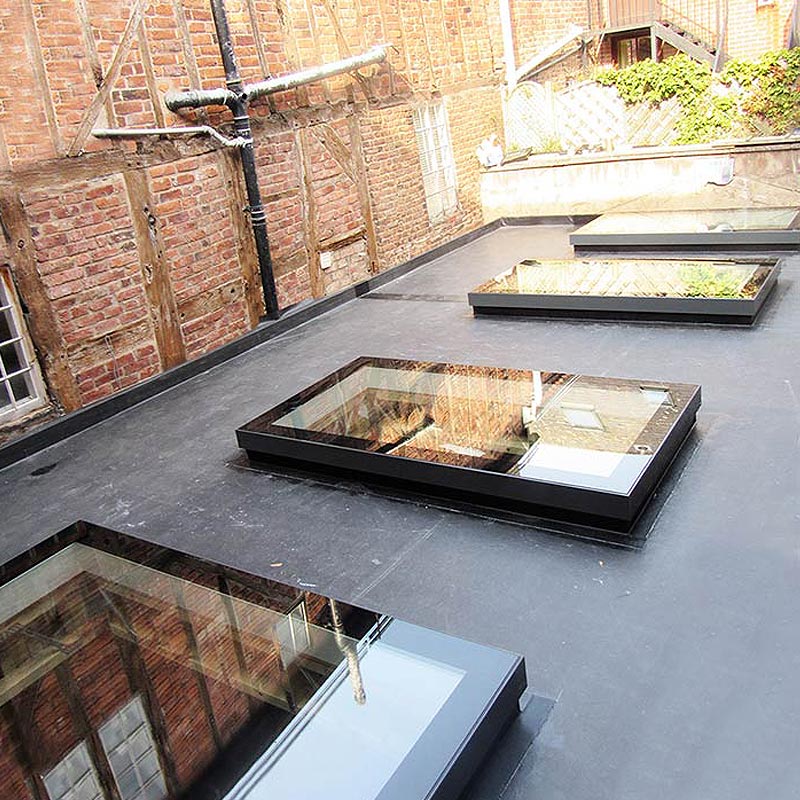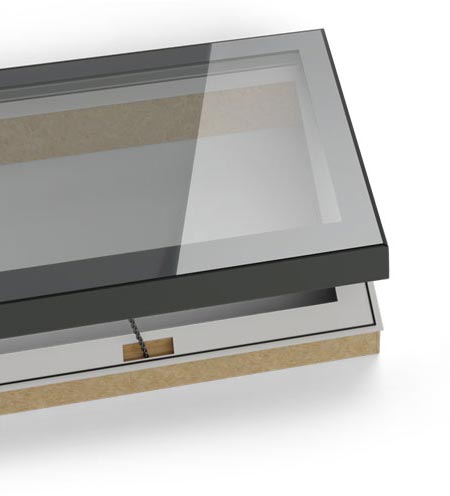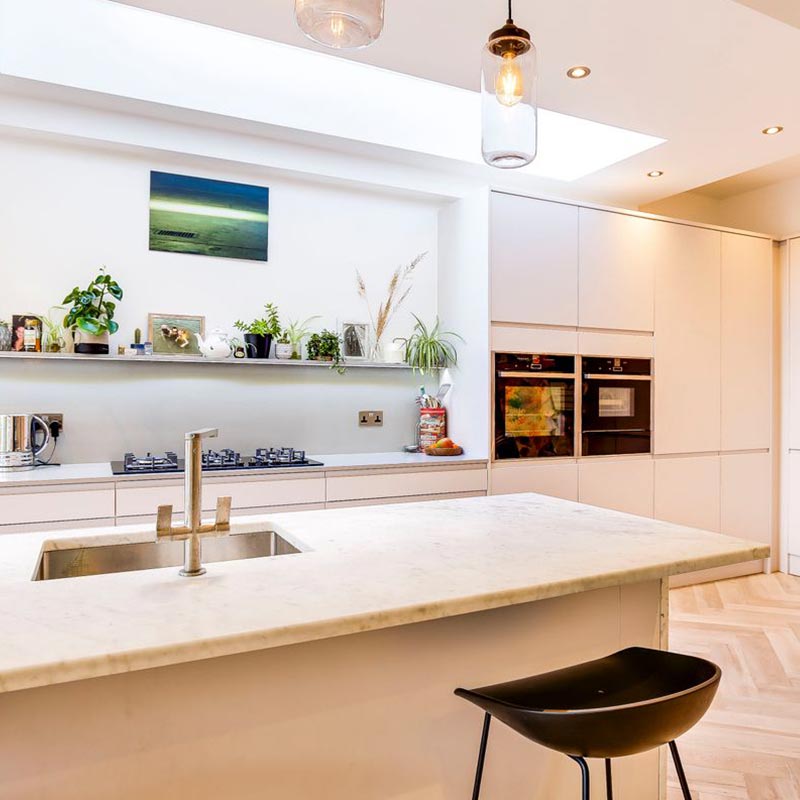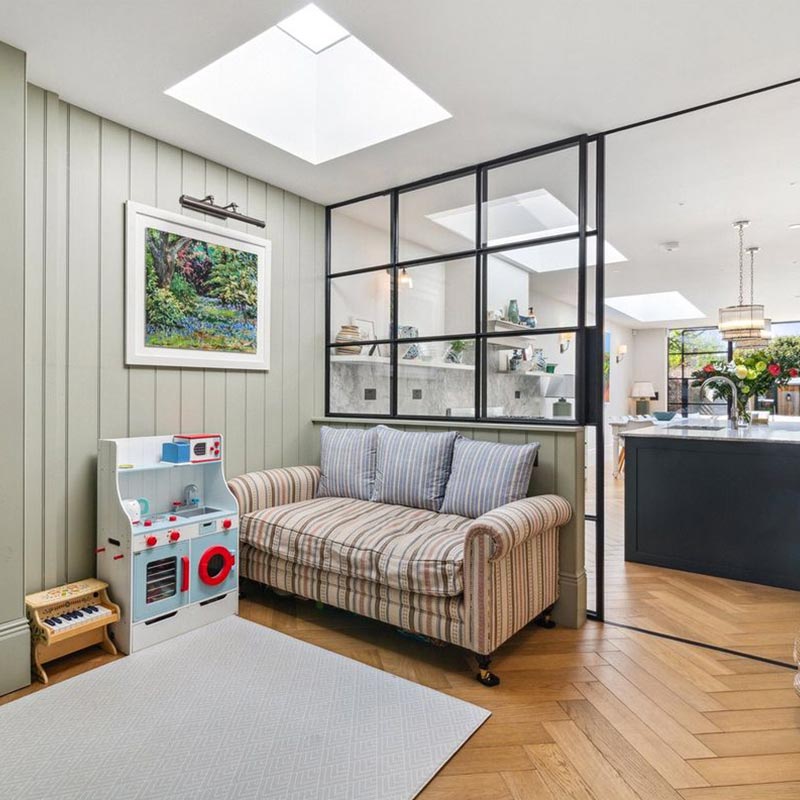 Customise your rooflight

to fit your home with our EOS75
If you want to add a sleek, streamlined design feature to your home, this is the rooflight for you.
Available in any size up to 3000mm and with a range of RAL frame colours, this opening rooflight is available as part of our bespoke service
The EOS75 comes with a custom-made insulated upstand as standard to create an integrated, thermally efficient rooflight. The upstand frame conceals a hidden motor for instant ventilation.
The EOS75 is the only rooflight available on the market where the pitch is built into the upstand – so there's no need for a subframe. The result? An uninterrupted transition from inside to outside and perfect sky views, turning your rooflight into a sleek feature of your room.
For projects looking to combine fixed and opening rooflights, the bespoke EOS75 will ensure all of your rooflights are the same height, giving you a streamlined, seamless external profile.
EOS75 product overview:
Custom-made
Double-glazed, toughened and laminated as a standard for exceptional safety

Triple glazing available as an upgrade

No subframe for a sleek interior finish
Tinted, privacy and solar control glazing options
Intruder proof
Ten-year warranty
Two-year electric motor warranty
Integrated upstand
Low U-Values, with options delivering under 0.76 W/m2k
Designed for roofs between 0-15 degrees
Various RAL frame colours to choose from
Impact-resistant glass (to CWCT Class 1) to ensure the highest safety standards
Are you looking for opening rooflights for a commercial project?
We supply rooflights to custom specifications or standard sizes, as a one-off or in volume. Find out more about how we can support your commercial development.
Standard or made to measure rooflights
98% of clients recommend EOS Rooflights
Contact our team
If you have any questions, would like a bespoke price or want to enquire about our installation service. Give us a call or drop an email:

0208 462 3557

[email protected]