Skylights

 for pitched roofs
Our skylights are the perfect choice for pitched roofs.
What's the difference between a skylight

 and a rooflight?
Need a window for your roof? If your roof pitch is between 15-75 degrees you'll need a skylight. Skylights are perfect for single storey extensions and loft conversions.
If you are looking for a window which has either no or a low pitch (up to 15 degrees)  you'll need a flat glass rooflight or an opening flat glass rooflight. Flat glass rooflights are popular for kitchen renovations and wraparound ground-floor extensions.
Made to measure

skylights
Take your room to another dimension with an EOS skylight.
EOS skylights are made in the UK and designed to fit your requirements. When it comes to size, the sky's the limit! We can custom-make any size skylight and we have options for opening and non-opening. Our frameless internal design ensures a 'hole in the roof' appearance for an extra Wow factor.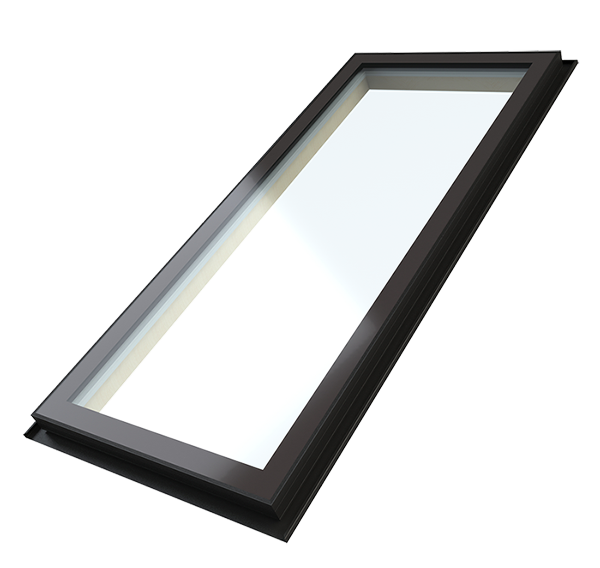 Are skylights secure? Ours are!
We take your family's safety as seriously as you do.
What sets our skylights apart is the safety of the glass. It's heat-soak tested during manufacturing to identify weaknesses and imperfections that are invisible to the naked eye, meaning you don't have to worry about it shattering.
The toughened glass is up to five times stronger than regular glass, and it's laminated inner pane as standard – meaning your rooflight won't shatter if it breaks.
Create the wow

factor
Why settle for what everyone on your street has when you can have a bespoke skylight? If you've a large roof, then scale your skylight size up and make a statement. Our skylights can be custom-made to any size you need. With our non-opening skylights you can have a maximum size up to 4000mm to make the ultimate kerbside statement.
The perfect temperature

and uninterrupted views
With every made-to-measure skylight, you'll get the option to add Clear Shield. This keeps your glass in tip-top condition by stopping things from sticking to it and turns water into small beads to help it run off easier.
Choose our solar control option, and you'll keep the light without excessive heat. When the temperature drops they're a thermally efficient way to keep your room cosy.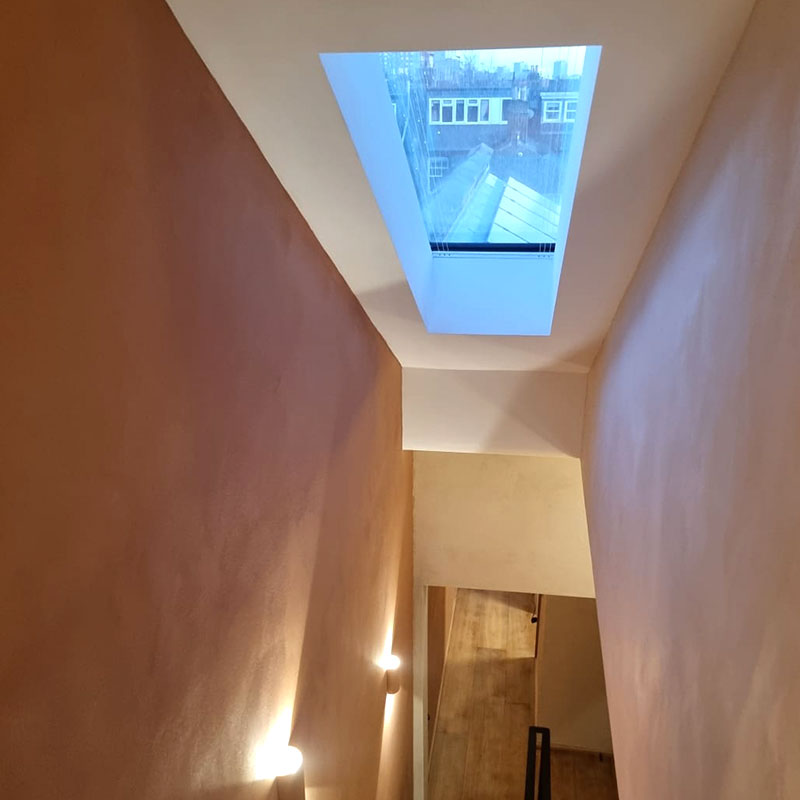 Durable, weather resistant

and thermally efficient skylights
Our skylights are manufactured high-quality, durable powder-coated aluminium frames to ensure ultimate air-and-water-tightness and thermal efficiency.
Thermal breaks in the frame minimise condensation; all of these features – combined with your choice of glass specification – mean that our skylights deliver incredible thermal efficiency with ultra-low U-Value.
With a super-streamlined design to optimise daylight, all the skylights we supply will blend seamlessly with your home's interior.
Product Overview:
Double and triple-glazed options
Available made-to-order in any size.
Provides enhanced energy efficiency
Tinted, privacy and solar control glazing option
Add Clear-Glass for crystal clear skylights
Made to measure
Ten-year warranty
Two-year electric motor warranty
Intruder-proof
Low U Values, with options delivering under 0.7 W/m2k
Designed for pitched roofs
Powder-coated aluminium frame in Anthracite Grey RAL 7016 (Matt)
Are you looking for skylights for a commercial project?
We supply skylights to custom specifications or standard sizes, as a one-off or in volume. Find out more about how we can support your commercial development.
98% of clients recommend EOS Rooflights
Contact our team
If you have any questions, would like a bespoke price or want to enquire about our installation service. Give us a call or drop an email:

0208 462 3557

[email protected]