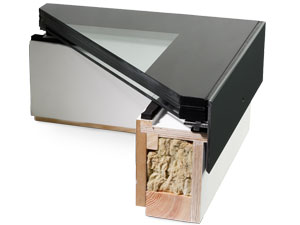 When it comes to installing rooflights in your home, safety is paramount. The perfect choice should be a blend of contemporary design, thermal efficiency, safety and security.
The glass used in manufacture is the best indicator for safety levels so it is essential that you choose the right kind of glass for your rooflight.
In order to ensure your utmost safety, the ideal specification should include a double glazed unit with an outer toughened pane and an inner panel of heat strengthened laminated glass.
Otherwise known as tempered, toughened glass is specially treated to be far more resistant to breakage than standard glass. Toughened glass is ideal for the outer pane as it greatly reduces the chances of breakages. If smashed, it is made to shatter into multiple tiny fragments instead of larger more hazardous shards.
Laminated glass is commonly used for safety and security purposes, because rather than shattering on impact, it simply cracks. The interlayer, which helps hold the sheets together, greatly reduces the danger of sharp glass fragments, and increases the durability of the pane.
When located overhead an inner pane of laminated glass has the significant advantage over alternatives such as toughened glass, as if broken it will support itself and the glass pane above rather than shatter and fall in which could be dangerous.
That's not where the benefits end though; in fact there are many reasons why a combination of both toughened and laminated glass is the preferable choice when it comes to rooflights. Let's take a look at the pros and cons of each type of glass below.
Toughened
Toughened glass is crafted by heating glass above 600°C and then rapidly cooling its surfaces whilst keeping its innards at a high temperature.
The variation in cooling rates creates compressive and tensile stresses. These counteracting stresses are what give toughened glass its higher resistance to breakage as well as the smaller shard fragments when it does shatter.
These small pieces may be less dangerous than larger ones, but they can still pose a problem, especially to those with young children or pets. The pieces are quite hard to find when sweeping up after a breakage and if they are consumed, they could cause serious issues to the digestive system.
Due to its resistant properties, toughened glass has a broad range of applications in architecture and vehicles, as well as furniture and public transport. However, it is not as secure as its laminated alternative, as the small fragments are very easily brushed away once the pane is smashed.
Whilst this makes toughened panes perfect for fire escapes and emergency exits on vehicles, it's not ideal when it comes to securing a home. Without any dangerous shards left from breaking the glass, intruders are granted relatively easy access through a home window or sliding door that is fitted with toughened panes after they've been smashed.
Laminated
Laminated glass can offer increased protection and has mild sound proofing qualities, which is incredibly useful when it comes to spaces such as corporate meeting rooms.
Made from an interlayer of polymeric material sandwiched between two or more layers of glass, it is produced through two different methods.
The most common method is to use a combination of heat and pressure to push a thin layer of PVB between the sheets. Other polymers an also be added to give the window different properties. The other method creates what is known as Cast in Place laminated glass. This is made by pouring resin into the thin space between two panes that are held in place incredibly close to one another.
The interlayer, which helps hold the sheets together, greatly reduces the danger of sharp glass fragments, and increases the durability of the pane. It also provides a way to customise the glass and add colouring, sound dampening, ultraviolet filtering and fire resistance. Although the durability provides a heightened level of safety, it does mean that it cannot be used for fire escapes, as it will not break in an emergency.
Often used in secure buildings such as banks, and by the automotive industry for car windshields it's also the perfect choice to secure a home; whether it's used for the windows, doors or rooflights.
All of our rooflights are manufactured using both laminated and toughened glass, which means that our customers benefit from the highest levels of safety and energy efficiency. We are also the exclusive UK stockists of the SkyVision series from Danish glazing specialist, Vitral.  This means you won't find rooflights as high quality anywhere else in the UK. For more information about how we can provide you with a safe and secure solution, contact EOS Rooflights today or take a look at our Fixed, Opening, Eco, or WalkOn Rooflights pages for more information and to see our stock sizes.