If you are adding a skylight to a flat roof, you must decide on whether to construct your own upstand or purchase one from your rooflight supplier.
An Upstand or Kerb is what keeps the rooflight off of the roof's surface, and is required by building regulations for safety and weathering reasons. The upstand must protrude at least 150mm above the roof and a recommended minimum pitch of at least 3 degrees.

Should I make my own upstand?
There are advantages to both making your own and purchasing via your supplier.
Cost is generally the main reason people choose to make their own. A simple upstand can be constructed from excess timber on site minimising waste or using standard timbers found at any local wood supplier. Creating your own upstand also allows your to weather your roof without the rooflight being on site protecting it from any potential damage.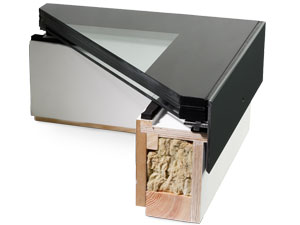 A purpose manufactured upstand benefits from improved thermal performance, weathering and air tightness. The profile has been designed and engineered to fit your exact rooflight  giving you peace of mind that your skylight is going to fit perfectly.
Our Opening Hinged Rooflight, Tripple Glazed Rooflight and Access Rooflights are all supplied with an insulated timber upstand as standard. If you are purchasing a Fixed Rooflight from us, we can provide this as an optional extra.
If you would like to build your own upstand, you can use this guide or visit our technical downloads page for specific measurements.
Looking For An Easier Way?
The easiest way to ensure your rooflight is installed correctly is to purchase a made to measure insulated upstand from your rooflight supplier. At EOS Rooflights all of our stock products are available as lid only or with optional upstand.
How do i create my own upstand?
There will be lots of ways to make an upstand but we will give a quick guide to the most basic option and also show the recommended way of creating your upstand, we will not show a step by step guide as this should be done by someone with more advanced carpentry skills.
Please Note: We only recommend attempting to build this yourself if you are confident in basic carpentry.
Basic Upstand Guide
We are basing this upstand to suit our EOS rooflights – fixed (lid only). Different systems will have slightly different requirements (upstand width and frame details) so make sure to study the relevant technical drawings.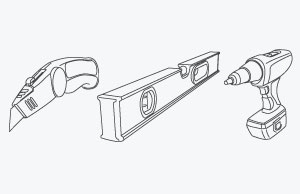 Equipment Required:
Drill
Stanley Knife
Spirit Level
Plus:
Screws to fix timber pieces together. These will need to be long enough to affix two pieces of 47mm each.
8 Gaskets
Materials Required:
Timber – 47mm (width) by 150mm (height). The total length will need to cover the dimensions of your roof light twice, plus an excess of 752mm (we'll explain why later!).
Example:
If you have an EOS F3 (1000mm x 1500mm) unit which is 1000mm in length (A and B in the above image), and 1500mm wide (C and D), the total length of timber you will need is:

(A+B+C+D) x 2 + 752mm = 10,752mm (just under 11 metres)
You Might Also Need:
Furring strips – these will be useful if you need to pack the upstand to reach the required minimum 3 degree drop.
Cutting Timber Lengths:
The first step to putting together the upstand is to cut the timber to the correct size.
The timber kerb will need to be 84mm – 94mm in depth, this is easily achieved by screwing 2 lengths of timber together (e.g 2 x 47mm timbers = 94mm)
Width
Cut four lengths of timber at A and B length, plus 188mm per piece (this is where the stray 752mm comes in – 188mm x 4 = 752mm). In the given example (EOS F3), this would mean cutting four pieces that are 1188mm each.
Length
Cut four lengths of timber at C and D length, E.G. An EOS F3 Rooflight, requires four pieces at 1500mm each.
Preparing For The Build:
The upstand will need to be completely flat, so be certain that the wood is also sanded so that it is level and stands at a minimum of 150mm.
You might wish to check each piece using your spirit level.
Putting The Frame Together:
Fix the matching lengths of timber along the long side. This will create four pieces that are 94mm in width, maintaining the 150mm height.
Next, fix all the timber pieces together to make a box shape. This should make the inside edge of your upstand the same dimensions as the structural roof opening. Ensure the frame is square by measuring corner to corner.
Checking The Pitch:
Now that you have constructed your upstand, you need to ensure that there is at least a 3 degree drop on the roof light (at least 5mm over every metre). The maximum pitch of our roof lights is 15 degrees.
Check this using the spirit level, and if it is below 3 degrees, you will need to pack the space using furrings.
Ready For Use:
You are now ready to position and fix the upstand over the structural opening. Before doing so, be sure to measure diagonally across the opening and adjust accordingly to check that the upstand is square in line.
Once ready to affix the skylight unit, you will need to refer to your individual product's installation guide. You can find a Fixed installation guide here.
Recommended Upstand Detail
The more advanced detail is the equivalent of creating a mini stud wall. The purpose of this is being able to insulate the inner cavity which gives greater thermal performance and sound insulation. We will not give a step by step guide but you can find some resources to assist you creating this.