Planning Your Home Extension
With Rooflights
Building an extension can sometimes make more economical sense than moving, and it can also add value to your home when it does eventually come to selling up.
With the addition of rooflights, you can transform the look and feel of your home and even revolutionise the way you use it, but what do you need to consider when installing an extension with rooflights?
Here, we talk you through the main ways to get your extension right and reap the benefits of natural light in your home.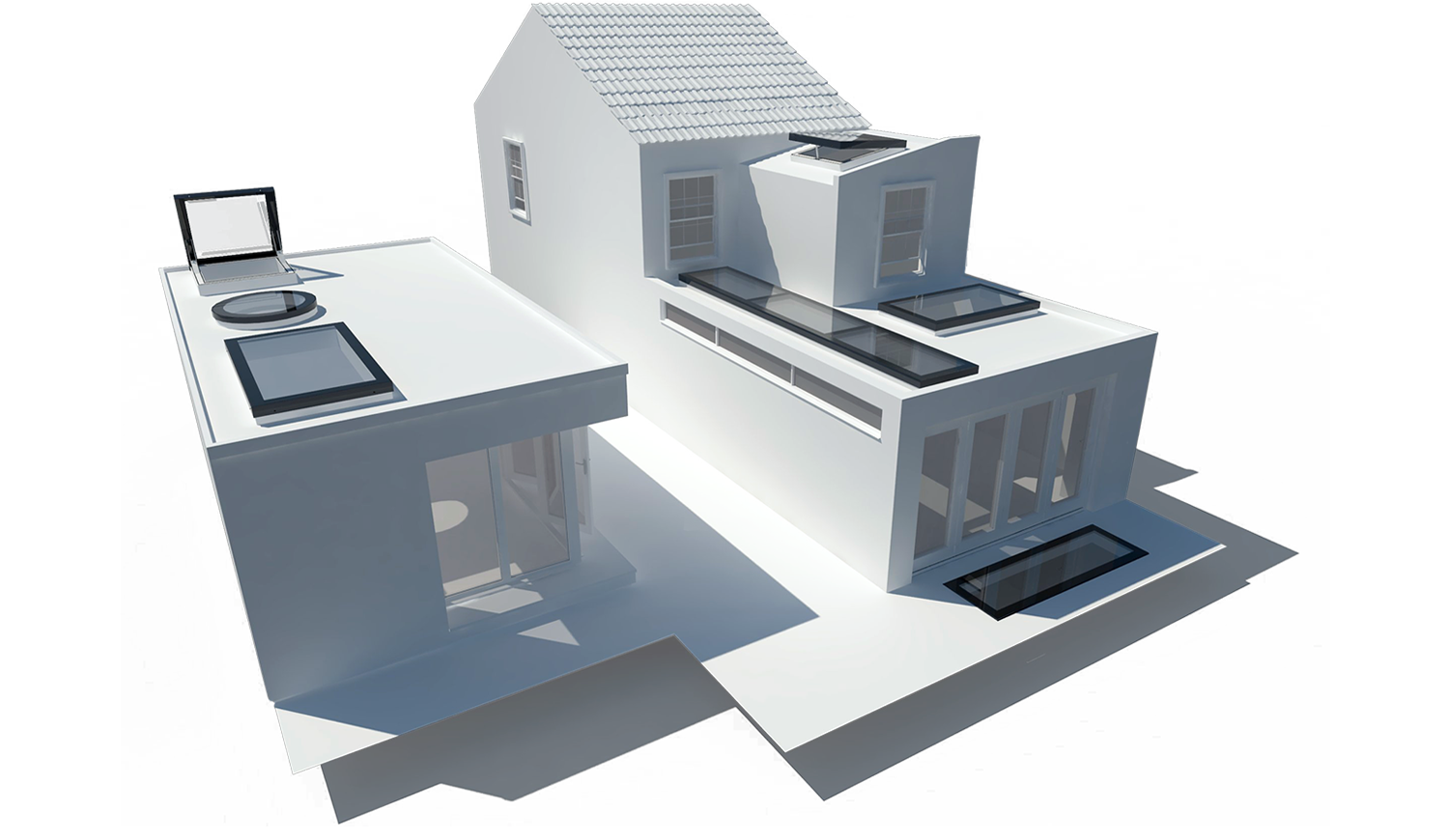 How to Begin
Sometimes, it can be hard to know where to begin if you're thinking about getting an extension, so why not start with the fun stuff? It's a really good idea to look for inspiration – flick through magazines and websites, such as Houzz, and bookmark anything you like the look of. You could even make a Pinterest board with a collection of looks and styles that have inspired you the most. At this stage, it's important to think about what you're going to use the extra space for, as this will help when exploring design ideas.
When you've decided what you want, look at how you're going to do it. Planning is crucial when it comes to any work in the home, particularly an extension. Consider the shape, style and size, and the impact it will have on your home.
Would you like to find out more?
If you would like further information about EOS, our products and how we can help, why not request a brochure.?
Your next step will be to measure, measure and measure again! This can affect the amount of materials you need to source and, of course, the cost of both the labour and supplies. It's best to have a contingency fund, too, as although an architect or builder can give you approximate costs, they can't guarantee there will be no issues: the weather, for instance, can hold up work.
Planning an extension means you are in control of what you want and how the finished look should be. When you've got the fundamentals of your extension sorted, choosing your rooflights is the exciting part.
Choosing Your Rooflight
Cost will depend on the size and style of your rooflights so you should factor this is when you plan and measure at the beginning of your journey.
Before choosing the right skylight for you, you need to consider its main use. If you would prefer to let in light but not ventilate, then fixed roof window will probably be best. Or, if you'd rather circulate air then we have opening options, too. In addition to these, you can choose from our triple glazed rooflights or walk-on options, all exceptionally designed with a high-quality finish, enhancing the look of your home.

Planning Permission
If you build on your existing house – whether that's a new conservatory or a kitchen extension – chances are you'll need planning permission.
If you're installing standard-sized rooflights you won't need to do this but extensions that are deemed over a reasonable size generally require a planning permission. You may be wondering what a reasonable size is – if you're unsure it's a good idea to double check before embarking on any project; you can do this by consulting your local planning permission authority.
Think About Your Surroundings
Adding extra space to your home is an exciting prospect but it's easy to get carried away with the aesthetics and not consider functionality. It's good to have ambitious goals, but make sure you also remain realistic. Consider the impact it may have on your surroundings; what about your neighbours? Inform them of your plans as building extensions can potentially cause disturbance. Also, will your neighbours be able to see into your home with your new addition? Rooflights are great for making the most of natural light but ensure they are positioned correctly to protect your privacy.
What Next?
For more information on how you can transform your property, get in touch and one of our helpful EOS team members will help. In the meantime, take a look at our Flat Rooflights, Hinged Rooflights, Eco Skylights, or Walk-On Rooflights pages for more information and to see our stock sizes.
If you're still stuck on what to go for, give us a call. We can talk you through your options to make sure you get a finished look that you'll love.
Start Receiving Free Tips and Tricks
Sign up to our Monthly Newsletter and receive exclusive content, offers and advice plus be the first to gain access to our upcoming 'Light Studio'
[gravityform id=13 title=false description=false ajax=true]