How thick does your Roof Light Glass Need to Be?
When shopping around for the right roof light for your home, it is likely you will come across various measurements for the glass. Not every supplier will provide you with the optimum measurements as standard so never be afraid to ask questions. You don't want to end up paying extra for what you can get elsewhere without an additional cost.
When it comes to installing skylights in your home, safety is paramount. The perfect product should be a blend of contemporary design, thermal efficiency, safety and security.
The glass used in manufacture is the best indicator for safety levels so it is essential that you choose the right kind of glass for your rooflight. In order to ensure your utmost safety, the ideal specification should include an outer toughened pane and an inner panel of heat strengthened laminated glass.
Toughened Glass
Otherwise known as tempered, toughened glass is specially treated to be far more resistant to breakage than standard glass. Toughened glass is ideal for the outer pane as it greatly reduces the chances of breakages. If smashed, it is made to shatter into multiple tiny fragments instead of larger more hazardous shards.
Laminate Glass
Laminated glass is commonly used for safety and security purposes, because rather than shattering on impact, it simply cracks. The interlayer, which helps hold the sheets together, greatly reduces the danger of sharp glass fragments, and increases the durability of the pane.
When located overhead an inner pane of laminated glass has the significant advantage over alternatives such as toughened glass, as if broken it will support itself and the glass pane above rather than shatter and fall in which could be dangerous..
Would you like to find out more?
If you would like further information about EOS, our products and how we can help, why not request a brochure.?
Glass Units – What are my options?
Depending on the product, the structure and make up of the glass unit will be slightly different to suit its purpose, Please find below a brief explanation of some of the most popular configurations and remember if you would like any further advice please do not hesitate to contact us.
Double Glazed Rooflights
The type of glazing is also important to consider. The majority of products on the market are DGU (double glazed units) as single glazing would simply not do the job of keeping your home secure and keeping in the heat from your home.
In fixed and opening roof lights 4mm thick glass is just not sufficient and you should insist on 6mm in any glazed roofing product. The vast majority of roof lights on the market rely on 2 toughened glass panes, however at EOS, we feel a minimum outer pane of 8mm toughened and 8.8mm inner pane of laminated glass offers significant safety and security benefits.
If you would like more information on our double glazed fixed and opening units click here.
Triple Glazed Units
Depending on the product, the structure and make up of the glass will be slightly different to suit its purpose, On triple glazed units the glass unit will be made up of three panes with a cavity that is injected with Krypton or argon gas which significantly improves its energy efficiency.
Again, the outer pane should be toughened, and we strongly recommend a laminated inner one to reduce the chance of damage.
Our Eco Roof Lights feature a 32mm triple-glazed unit with an outer 8mm toughened pane, 6mm toughened glass in the middle and an upgraded 8.8mm laminated inner pane as standard.
Walk On Specifications
Walk On units should naturally have a thick outer pane in order to bear the necessary impact. At EOS, ours Walk On roof lights come as standard with a 50mm double glazed unit, comprising of a 33mm toughened & heat strengthened laminated outer pane and 8.8 mm laminated low e inner pane.
You can find out more about our Walk On Rooflights here.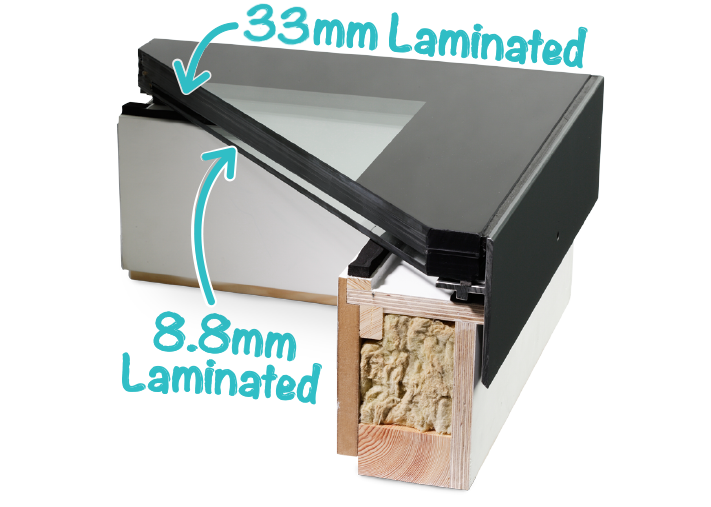 Start Receiving Free Tips and Tricks
Sign up to our Monthly Newsletter and receive exclusive content, offers and advice plus be the first to gain access to our upcoming 'Light Studio'