Small, cosmetic changes to larger house renovations, lighting plays a key role in the way you use and style your home. From enhancing colours and lifting a dark setting to creating an open, bright and airy space – lighting does it all. So why is it so important? We explore the benefits of natural lighting and discover some must-haves and some do-nots when it comes to lighting your home.
Why is Lighting So Important for Interior Design?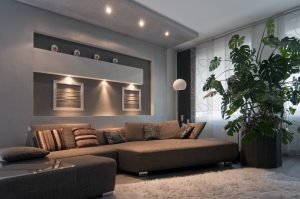 Designing your home can be an exciting and enjoyable process; you can choose between what feels like an array of colours, textures and textiles, and beautiful interiors that make your house a home. When you've decided on the style, it'll be time to enhance it – and that is where lighting comes in.
Lighting is crucial in interior design; it can negatively affect the way a room looks and feels with the mere placement of a side lamp in the wrong place.
You'll find that different types of lighting play different roles in the home, but don't be afraid to layer light. After all, it can make your room look bigger and brighter, if used in the right way.
Task Lighting
There are two types of artificial lighting – task and decorative – and both are important for creating the right ambience at home.
Task lighting is, as the name implies, lighting that is needed to perform a specific task. Examples include a well-lit work area if you have a home office or brighter lights in a bathroom for applying make-up.
In both these instances, natural lighting is the best option to avoid eye strain and for a better finish, but task lighting does the job well in the absence of natural light, especially in darker seasons.
Decorative/Ambient Lighting
Much like task lighting, decorative lighting is used for specific reasons at home, usually for creating an ambience. Whether you're looking to create a soft glow in the dining room or a warm glimmer in the lounge, this type of lighting can add comfort to a space.
Used to illuminate a room and highlight the architectural structure of your property – such as alcoves and ceiling coves – decorative lighting works well in the evenings when you're looking to relax, as you'll find it creates a much softer glow than task lights.
Natural Lighting
Nothing quite beats the fresh feeling of natural lighting flooding your home; it seems to saturate every room with its endless light, bouncing off fixtures and adding space to smaller areas.
EOS Rooflights and natural lighting are a marriage made in style heaven, providing an abundance of bright light that cascades from above. Whether you're adding rooflights to a flat roof or slanting ceiling, you'll find that maximising light will transform the room.
Don't forget you can add glass walkways internally too, which allows light to flow through your home, rather than just the areas that have access to windows. This is a particularly good idea for rooms with no natural light – think basements or areas in the centre of your home.
Both natural and artificial lighting will help create the illusion of space but natural light opens up a space so that it feels brighter and fresher.
The benefits of natural light don't stop there, either. Did you know that being exposed to natural light could help improve your wellbeing? It can also help you wake up naturally, which improves sleep quality too, something that artificial light struggles to do. So rooflights are perfect for bedrooms to allow natural light in on those early mornings.
Decorating and Lighting Top Tip
When you're painting a room in your home, remember that the colour may alter at different times of the day and with different lighting. Harsh, artificial lighting can adjust the shade slightly while natural lighting should allow you to see the colour in the way it was intended. You could paint a piece of card and see how it looks at different times of the day, both with natural and artificial lighting – this will give you an indication of how the colour will look when applied.
If you want to enhance the look of your home with rooflights for natural light, contact us today and speak to one of our helpful team members.