Thermally efficient and compliant custom-made rooflights designed, manufactured and installed for commercial projects
An unrivalled choice of rooflights coupled with a

top-quality installation service
We've always provided high-quality rooflights for commercial projects. Now we're using our decades of experience to install them, too. So, there's one less thing for you to worry about on your next project.
We install rooflights as part of refurbishment or new-build projects and will liaise directly with you or your contractors to provide aone-stop installation service.
Quote
We'll provide a quote covering everything required to complete your project, including the rooflights or lanterns of your choice, insulated upstands and associated costs.
book your survey
Depending on your project, we may need to conduct a site survey where we can provide technical information on any rooflight and discuss the best type of installation.
building your rooflight
We'll custom-make your chosen rooflights to your specification and prep them for installation from our workshop in Kent.
Installation
Our team will work with you to arrange the most convenient date for delivery and hassle-free installation.
A rooflight for every type of project
"The ordering and supply process was straightforward, and installing the rooflights worked well with the pre-made upstands.
All in all it's been a very satisfactory and successful decision to select EOS Rooflights."
Clive Woodford, EOS Rooflight customer
"We had a really positive experience working with EOS Rooflights. Their communication was fantastic, and they kept us informed with important delivery updates.
The short lead time was ideal, and they were pretty flexible with delivery dates to suit when we had enough people on site for offloading and accepting the delivery.
I would highly recommend them."
Madeleine West, EOS Rooflight customer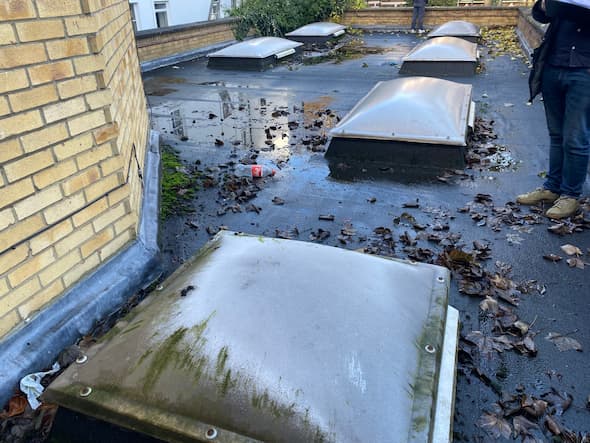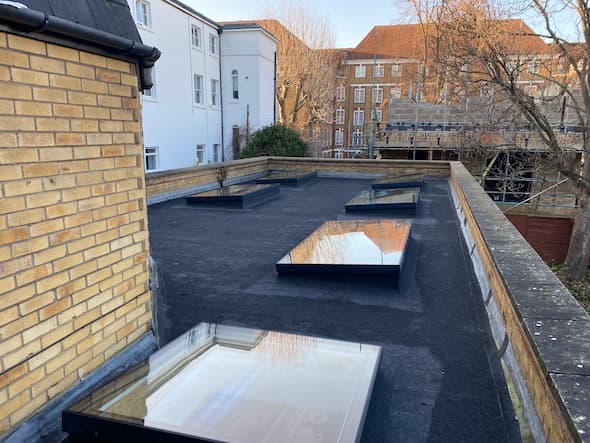 High-quality commercial rooflight installations
Thermally efficient rooflights are seen as standard for modern developments looking to draw in natural light all year round. In recent years, demand for rooflights and polycarbonatedomes on business premises and refurbs has skyrocketed.
With over 30 years of experience in the glazing industry, we have worked on hundreds of commercial and public sector projects across London and major UK towns and cities.
We are in a unique position to offer a turnkey service. Our rooflight systems comply with Part L and Part B regulations, ensuring that your premises meet the necessary energy efficiency, fire safety, and safety requirements.
The commercial sector has quickly recognised the advantages of working with us as a UK-based manufacturer capable of custom-making, supplying, and installing rooflights for their projects.
Thermally efficient rooflights are now seen as standard for modern developments looking to draw in natural light all year round. 
To meet specification, supply-chain and installation demand for our commercial clients, we offer:
Top-quality, thermally efficient rooflights designed and manufactured to any size and dimension>
Insulated rooflight upstands custom-made to your preferred thickness and U Value, created by industry-leading manufacturers The Upstand Company
Complete project management and installation with our own highly skilled team
Flexibility. One or one hundred rooflights – our team are here to help!
Clients rightly expect public buildings, such as offices, hotels and schools to provide a pleasant, comfortable, and thermally efficient space with ample natural light.
We've seen an increase in public buildings and schools installing rooflights and replacing polycarbonate domes as they look to make their premises more energy-efficient and low maintenance.
Why choose us
We live and breathe rooflights: we're experts in their design, installation and maintenance.
From helping you choose a rooflight that will maximise light while complementing your project, to offering advice on navigating working space restrictions, we'll be on hand to answer all your questions.
Our commercial rooflight installations are undertaken by a team with decades of experience manufacturing, supplying and fitting glazing products. We have all the skills and equipment required to make the installation phase as smooth as possible – even on buildings with tricky access and hard-to reach areas.
When you get a quote from us, it'll cover everything including using specialist equipment to install if necessary – so there'll be no nasty surprises at the end of your project.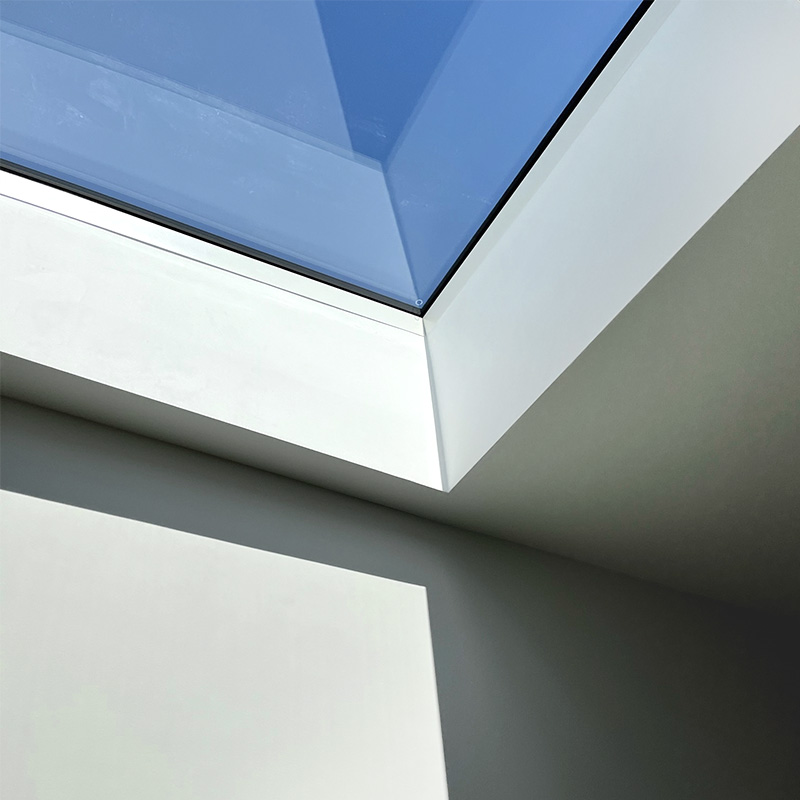 An independent company with a national presence
We're a family-owned business and provide a personalised service. Nonetheless, we have the resources and capability to undertake commercial installations across the UK.
Outstanding customer experience
Our customer engagement goes well beyond what you'd experience with a national rooflight manufacturer and installer. We have a 4.8 star rating from 303 reviews on Reviews.io.
Extensive rooflight knowledge
Our team has decades of experience and knowledge which we're only too happy to pass on to you.
Quick lead times
If you need a quick turnaround, we can deliver standard rooflights within days. Bespoke rooflights can be manufactured in just 3 – 8 weeks.
Projects managed from specification to installation by our highly skilled engineers 
Our dedicated customer support team is always available to assist you.
Our team of engineers has extensive experience in specifying rooflights and insulated upstands, and recommending the best installation methods for your project.
Similarly, our installation team is experienced in handling unique and complex installations ranging from small to large-scale projects on busy building sites.
A variety of

installation services

to suit your individual needs
We cater to a diverse range of clients who need start-to-finish project management, from independent builders to large commercial sites.
And because every project is different, we provide a variety of installation service levels to ensure that you receive the support you need.
Assisted Fit
We'll send expert fitters to your site to oversee installation. They'll provide assistance and advice on the whole process, including fixing and silicone bonding (if necessary). Please note that getting the rooflight onto the upstand will be done by your roofing contractor.
Lift & Install
Rooflights will be lifted into situ and fitted by our expert installers. Please note that this may require mechanical lifting.
Full Contract Install
The rooflights will need to be lifted (which may require mechanical lifting) and installed by our team of expert installers. For more complicated installations, a site survey may be required.
Whichever installation services you require, our technical department will create computer-aided drawings for your approval, and your rooflight/lantern and upstand will be manufactured to your project's specific requirements in our UK-based factory.
A turnkey

rooflight installation

service
We manufacture and install high-specification, bespoke rooflights which can be combined with industry-leading insulated upstands from The Upstand Company. Our thermally efficient rooflights can be manufactured to any size and dimension, while each upstand is created for the chosen rooflight specification and to your preferred thickness and U Value.
Our skilled team of engineers provides complete project management and rooflight installation services for commercial projects, including site surveys, detailed specifications, manufacturing and installation. Using our expertise, we'll help you every step of the way from concept to completion.
Whether you need one rooflight or one hundred, our team can assist you.
Guaranteed
We guarantee our rooflight, insulated upstand and installations to give you total peace of mind.
98% of clients would
Recommend EOS Rooflights
Contact our team
Partner with us for a thermally efficient commercial rooflight project and enjoy the benefits of a fully compliant manufacturing and installation service. Contact us today and let us help you create the perfect environment for your project.
0208 462 3557