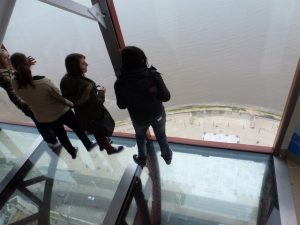 When you think of a skylight or a roof light, you would understandably imagine them on the roof of a building, letting in natural daylight from above.
However, they are now being used in more dynamic and interesting ways internally, particularly in commercial buildings. Domestic properties are also beginning to adopt them in order to add a contemporary look to the space.
Let's take a look at the key questions and considerations to be made in order to introduce this unique and exciting interior trend to your home.
What is an internal skylight?
An internal skylight is a Walk On unit that has been installed within a property across two storeys or as a glass floor panel. The pane allows you to see into the floor below, or above depending on your location.
Where and how are they used?
The most common use tends to be within tourist attractions to allow for exciting views from great heights or to expose an interesting perspective on architectural design.
For example, if you have ever taken a trip to Portsmouth, you may be familiar with this view of the Spinnaker Tower.
At a first glance, this might seem like an unusual feature to add to your living space, but there are actually many fantastic benefits involved.
So what are the benefits?
If you want sunlight to flow naturally through your house, Walk On roof lights are an ideal solution, as they will introduce the light from the room above, to the room below with ease. This is perfect for buildings with cellars or basements which might otherwise be quite dark and dingy.
The knock-on effect of increasing natural light flow in your home is that you will rely less on artificial lighting to keep rooms illuminated, which will help to significantly save money on electricity bills.
In addition to this, Walk On units can instantly add a more modern look to your living room, kitchen or dining space. They can also expose interesting architectural elements to your building, such as traditional style beams, and are a great talking point too!
Are they safe?
This is always a popular question for anyone investing in a skylight. However, there is no need to be concerned as our frames and panes have been specially developed and tested to the highest safety standards.
The glass used for our Walk On roof lights is incredibly strong and hardwearing, with 50mm double glazing as standard, including a 25mm toughened and heat strengthened outer pane and 8.8mm laminated inner pane. You can read more about the different glass types in this blog post.
This means that the likelihood that the panel should break is incredibly unlikely, with the product able to support loads of up to 500kg per square metre.
Tip: Glass can get slippery – unless it's covered in a non-slip coating. Whenever you are purchasing a Walk On unit, it is recommended that you always ask for this extra to be applied.
The frames protecting the pane and securing it in place are made of tough coated aluminium, with an insulated timber upstand included.
The glass and frame finish flush with the surface, so there's no risk of tripping hazards either.
All of our products also come with a 10 year warranty for your peace of mind. 
How do I pick the right unit?
There are a few considerations to bear in mind when choosing the right skylight. Before considering the size, shape and style, you need to know that your unit is going to be efficient, and has been tested to the highest specifications.
So what should it be tested for?
Water Tightness
Although leaking is more of a concern for external roof lights, it is still important to know that your product is able to resist leakage.
Water Tightness is tested and classed between a rating of 1 to 4 with 1 being the lowest. Our Walk On units all pass with flying colours at a class of 4.
Air Tightness
To prevent loss of heat or any draughts making their way through, each product is tested for air tightness (or permeability).
This is classed in measures of pa (Pascal) which determines the amount of air pressure that can be applied. The ratings are between 150pa and 600pa. Once again, our units are top of the class at 600pa.
Sound Insulation
Sound is measured in decibels (dB). Our units resulted in a measurement of 34dB sound reduction. This means if, for example, if the sound levels on one side of the glass are at 60db, the pane will reduce this by 34dB.
Thermal Insulation
Otherwise known as thermal transmittance, this is measured by U-Value – the lower the number the more efficient, making ours incredibly competitive and way below the building regulations standard at 1.24W/m2K (watts per square metre, per degree Kevin).
All of our products are also certified for each of these tests by CE marking, DS certification and by the DS/EN quality system.
Read about our certifications on our Glossary page.
What size and shape should I opt for?
First, you need to think about what the purpose of the unit is before deciding this. If it is primarily aesthetic, then what shape and style would you like it to be?
Whilst the units come in standard sizes for structural openings, with a little creativity you can create any shape you desire by working with a contractor in designing the structural opening frame.
On the other hand, if it will primarily serve as a source of light for the storey below, you must make sure that it is large enough to accommodate the light access, whilst ensuring you have enough space when factoring in furniture and overall area dimensions.
What sizes are available?
Our units are available in four standard sizes to suit structural openings of:
1000mm x 1000mm
1000mm x 1500mm
1000mm x 2000mm
Alternatively you can choose a bespoke made to measure size.
Do internal skylights require cleaning?
Like any skylight, Walk On units are very low maintenance.
If there are any smudges on the glass, you can use a standard cleaner to wipe these away – just avoid any strong chemicals as these can corrode coatings. The frame can also be cleaned if required by using warm soapy water.
Tip: Always use a lint free cloth for cleaning, and avoid tough scrubs or scours.
For more information about our Walk On roof lights, click here. Have any further questions about adding internal units to your home? Head on over to our Contact page to get in touch or take a look at our Fixed, Opening, Eco, or WalkOn Rooflights pages for more information and to see our stock sizes.
Spinnaker Tower glass floor image from Wikimedia via Creative Commons
Want to Know More?
If you are interested in a Walk On rooflight you can learn more by clicking below. See technical details, thermal performance and prices for our Walk On system.